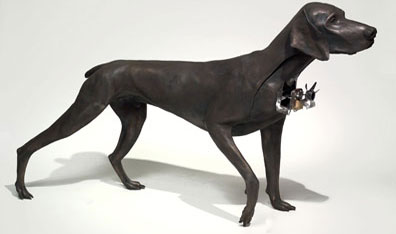 Purifier, Chris Cooper, 2005. Sculpture (bronze, steel, electric motors). Courtesy Winnipeg Art Gallery.

The cover of the catalogue for Supernovas, a group show at the Winnipeg Art Gallery spotlighting emerging hometown artists, depicts a girl in a groovy rock-and-roll T-shirt holding a stylized Slurpee cup. A reference to the city's dubious distinction as the statistical leader in global Slurpee consumption, this simple image embodies the city's characteristic combination of self-deprecation and quirky pride. The attitude extends to the work. Supernovas, which opened Jan. 28, can be as much fun as a junk-food, tabloid-magazine binge at 7-Eleven and as bracing as a brain freeze.

Exhibition curators Shawna Dempsey and Lori Millan are veteran Winnipeg artists who have collaborated for 17 years on performance, installation and video works; the pair is probably best known for the catchy, informational 1990 rap song We're Talking Vulva. They are also untiring civic boosters, always ready to talk up Winnipeg's enlightened arts funding, collegial cultural community and cheap rent.

In the last decade, the city has produced enough international art stars to warrant Millan and Dempsey's pro-'Peg propaganda. Witness the success of the Royal Art Lodge, especially member-at-large Marcel Dzama, the Winnipeg wunderkind who recently relocated to New York; Guy Maddin, prairie-Gothic filmmaker and occasional Village Voice scribe; and big-canvas masters Eleanor Bond and Wanda Koop.

Trying to get some sense of the generation coming up in the wake of these breakout talents, Dempsey and Millan made more than 80 studio visits and viewed hundreds of hours of video to eventually — and reluctantly — winnow their selections down to 29 artists and 222 works to be shown at the Winnipeg Art Gallery.

Ever since the eclectic 1980s, it's been rare to see group exhibitions with a consistent look. The works in Supernovas range from audio and video to lush painting and sleek cast-bronze sculpture (like Chris Cooper's gorgeous dog-slash-air purifier). They include austerely beautiful abstract constructions and irreverent comic-book doodles, digitized information and messy, handmade stuff.

Appearances aside, there are clear commonalities in approach and outlook. In an essay accompanying Supernovas, Dempsey and Millan speak of the irony of living on a "land-locked island," a position that fosters a certain freedom for idiosyncratic development away from superheated art centres like Toronto. ("People don't want to be art stars here," says the 40-year-old Millan. "They just want to work.") Dempsey and Millan also identify a longstanding Winnipeg tendency toward collective action, speaking of the city's "compulsive friendliness," which, combined with the frigid winter weather, forces people to huddle together for creative warmth. Many of the "supernovas" belong to collaborative gangs like the Too-Sicks Art Club, which has a fondness for the guerrilla-style deployment of public art, or work with community-based groups like the Graffiti Gallery and Art City, which offer programs for inner-city kids.

The Supernovas essay also points to the garbage-picking, bargain-bin, DIY aesthetic in a lot of Winnipeg work — what could be called the Value Village school of art. Fred Thomas creates works in rusted-out industrial sites and old Canadian Pacific Railway yards; in his Blemish series, he sprays aerosol paint on corroded metal for layered, haunting, unexpectedly elegant results. Adrian Williams likes to wander around city streets picking up odd bits of wood for his art, while Cyrus Smith, who works in almost any medium that comes to hand, admits to being an inveterate pilferer and dumpster-diver.

Other supernovas sift through the mass-media environment like pop-culture magpies. Dempsey and Millan point out that many of these artists are young enough to have grown up with 24-hour TV programming and washroom-stall advertising, and thus tend to view media with a savvy and sceptical eye. Adam Brooks turns the celebrity subject matter in People magazine into deliberately garish oil paintings; he references Tom Cruise's crazed, couch-jumping Oprah appearance in the piece Everybody Knows, Tom. Ian August compares his works — 30 book covers modified with drawings, paintings and collages — to the experience of channel surfing, an analogy that could also apply to the multimedia assemblages of Shaun Morin and Justin Ludwar.

Some of the pieces hearken back to discarded or undervalued craft techniques. Eric Lesage's Re-Definition combines the modern technology of paper shredding with the ancient practice of weaving; having reduced an entire dictionary to strips, Lesage is putting it back together in a luminously lovely series of woven panels.

Paul Robles's works in the You are the Everything series are notable for punchy colour and pure lines. It's once you realize that they're constructed out of delicate paper cut-outs — a technique once dismissed as women's work — that you appreciate the astonishing final effect. Suzie Smith crafts "Action Figures" depicting art and entertainment stars like Tina Turner, Frida Kahlo and Yoko Ono using silkscreened fabric stuffed and gathered into multiples of 25.

These fabulous hybrid objets d'art underline the fact that this new crop of artists has no hang-ups about selling work. "They don't share our generation's guilt," comments Millan. What she means is that these new artists make no distinction between people who exhibit in artist-run centres and people who sell through the commercial scene. Many of the artists are hooked up with web-based galleries or the international art fair circuit. Perhaps inspired by Dzama's weird little housewares, which are jumping off store shelves in Manhattan, other Winnipeg artists are showcasing their works through such non-traditional art venues as boutiques and the front pages of magazines.

"Their attitude is, the more ways to get art out there, the better," suggests Dempsey.

Dempsey and Millan are also struck by the sense that these artists "just aren't into identity politics." Sure, they're interested in issues of race, class and sex, but they consistently eschew the earnestness of earlier generations, treating these themes with subversive playfulness. Take Liz Garlicki's startling soft-porn female nudes etched onto vinyl, or Erica Eyres's spooky and funny pen-and-ink drawings of half-dressed young women; they start out kinky, but hint at some underlying deformation or distortion. The effect is unsettling.

In choosing work for Supernovas, Dempsey and Millan didn't mean to make any stratospheric predictions about the trajectory of Winnipeg art. Other than a very unscientific observation about heavenly bodies — the catalogue quotes performance poet John Giorno as saying, "You got to burn to shine" — the curators don't offer any definite rules about what makes an art star. But with this fresh, diverse show, they do give some sense of what's lighting up the city right now.

Supernovas is showing at the Winnipeg Art Gallery Jan. 28 to May 14.

Alison Gillmor is a writer based in Winnipeg.

CBC does not endorse and is not responsible for the content of external sites - links will open in new window.